Notice To Customers
FPU apologizes for any confusion or concern that was the result of a recent notice sent concerning an electric rate adjustment. We would like to take this opportunity to clarify some information and reassure customers that the average electric customer will see an increase of less than 1% or 46 cents on their monthly bill. This slight increase is the result and offset of a negotiated decrease in fuel costs.
WHEN WILL I BEGIN TO SEE THE INTERIM RATE INCREASE?
New rates for FPU electric customers will become effective January 1, 2020.
HOW WILL THIS AFFECT MY BILL?
Based on an analysis between current rates and the new rates, to include estimated fuel cost reductions, the typical residential electric bill will only increase by an average of 46 cents. Below is an electric residential customer bill sample and new rates that will become effective January 1, 2020.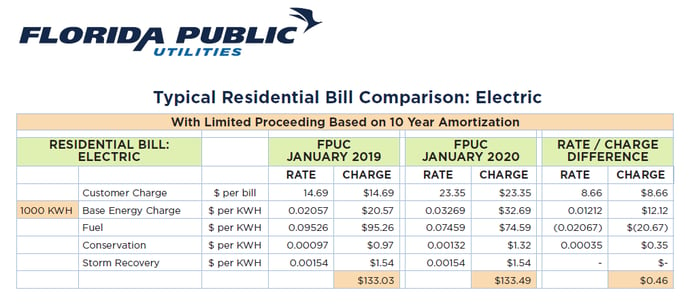 Please note this is only an average and bills will vary based on specific customer circumstances and energy usage. Furthermore, a significant majority of the increase will be offset by a decrease in fuel costs which are the costs required to generate electricity.
WHY ARE THESE RECOVERY COSTS PASSED ON TO THE ELECTRIC CUSTOMERS?
As a direct result of the complete destruction and more than $65 million dollars in repairs to the FPU electric distribution system in Northwest Florida caused by Hurricane Michael in October 2018, on August 7, 2019, FPU filed a request with the Florida Public Service Commission (FPSC) seeking permission to increase rates. FPU filed only to recover costs and investments necessary to restore FPU's Northwest electric distribution system.
We appreciate and value our customers and it is our sincere hope that this additional clarification will ease any concerns.
Details regarding the Company's request are contained in the Minimum Filing Requirements, which also contain detailed financial, accounting, tariff and engineering data supporting the request. These are available for review at the business offices at the following locations during regular work hours.
2825 Pennsylvania Avenue
Marianna, Florida 32448-4004
(850)-526-6800
Monday-Friday (9:00a.m-5:00p.m.)
780 Amelia Island Parkway
Fernandina Beach, Florida 32034
(904)-261-3663
Monday-Friday (10:00a.m-5:00p.m.)
Any customer comments regarding the Company's service or the proposed interim rate increase should include the docket number assigned to this case, Docket No. 20190156-EI, and should be addressed to:

Commission Clerk
Florida Public Service Commission
2540 Shumard Oak Boulevard
Tallahassee, FL 32399-0850

You may also contact the Commission at their toll free number: 1-800-342-3552.

Additional information is also available by visiting the Company's website at www.fpuc.com. You may also obtain information about this request by calling the Florida Public Service Commission at 1-800-342-3552 or visiting the Commission's website at www.psc.state.fl.us.
---
Ways To Keep Bills Low
While our new rate reduction will positively affect your energy costs, there's no such thing as too much savings. Looking for ways to keep your energy bills as low as possible? These three resources are a great start!
Take Advantage Of Energy Conservation Rebates.
Making energy-efficient upgrades at your home or business is one of the best ways to reduce long-term energy costs, but new equipment requires an initial investment. On the bright side, however? FPU offers rebates on a nice range of energy-efficient upgrades, helping you save in the beginning, as well as the long run. View Conservation Rebates
Schedule A Free Energy Check-Up.
A Free Energy Check-Up is a fast, easy way to find sources of energy waste in your home, and can help you save immediately. We also offer Free Online Energy Evaluations, which are available to both homes and businesses.Schedule a Free Energy Check-Up
Learn A Few Simple Tips.
Visit Our Energy Experts page for quick tips, Q & As and other tricks of the trade that'll help you save energy like a pro.
Learn from the Energy Experts
Find information on electric tariffs: