Important Updates
At Chesapeake Utilities Corporation, the health, wellness and safety of our employees, our customers and our communities are our top priority. We are closely monitoring the COVID-19 pandemic. Bookmark this page for important ongoing updates, links and information during this unprecedented event.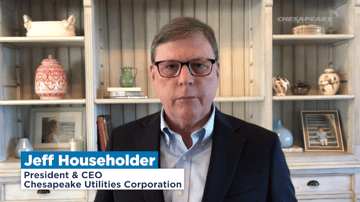 A Message from Chesapeake Utilities Corporation President and CEO Jeff Householder

Chesapeake Utilities Corporation Donating $200,000 to Support Communities During Coronavirus Response »

Read a letter from Chesapeake Utilities Corporation President and CEO Jeff Householder »
RELEASE: Chesapeake Utilities Corporation Takes Actions to Protect Community During Coronavirus Pandemic »
Media Inquiries: For all media inquiries, please fill out our Media Request Form. For urgent requests, call our Media Hotline: 1-302-217-7050.
Utility Listings
Select your utility below for important local updates and information regarding office closures, bill pay, helpful videos, and more.
Frequently Asked Questions
What steps is the company taking to ensure the safety of their customers and employees from the Coronavirus?
In light of the growing concern with the spread of the Coronavirus, we have activated our company-wide Pandemic Response Plan, which includes:
Following the guidance and recommendations of the Centers for Disease Control and Prevention (CDC), local government and health authorities and relevant industry agencies
Identifying critical functions to minimize service interruptions.
Identifying key employees to keep critical functions operating.
Addressing critical supplies, parts and inventory.
Reducing non-essential travel.
Limiting large gatherings of employees.
Are any steps being taken to assist customers during this potential financial hardship?
We are suspending service disconnections and late fees through until the State of Emergency Order has been lifted.
Have there been any reported cases of the companies being infected by the coronavirus?
At this time, there are no reported cases of our employees being infected by this illness. If an employee, contractor or vendor exhibits signs of illness, they will not be allowed to enter a company facility. We have also limited access to our offices to essential personnel only.
What safety measures is the company taking to ensure the technicians entering my home or business are not contagious?
The health, wellness and safety of our employees and customers is our top priority. Our field employees are following rigid safety precautions to protect themselves and our customers. These include hand washing and sanitizing, wearing gloves, maintaining a six feet distance between themselves and others, avoiding handshaking, and avoiding contact with hard surfaces, such as tables and doors.
Remember to bookmark this page to view important updates.